BiosenseClinical Clinical Serum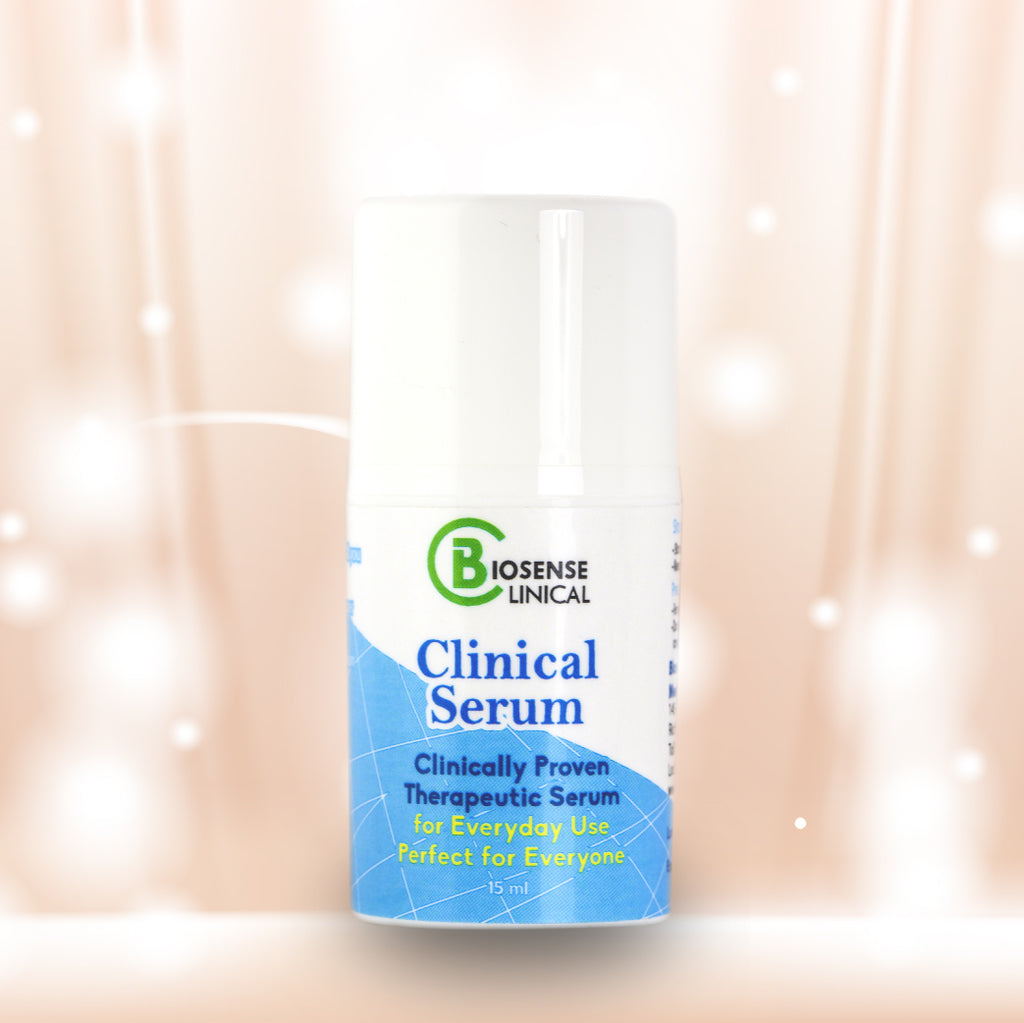 ---
- Clinically Proven Therapeutic Serum for Everyday Use
- Perfect for Everyone
Features:
Total skin care daily serum - All you need in one bottle
Anti-aging, brightening & super hydrating
Smoothen fine lines and wrinkles
Boosts collagen production
Brightens pigmented skin
Restores skin barrier's function
Refines skin texture & Minimizes pores
Gently improves skin exfoliation with an innovative process
Gives you a smoother, brighter and even skin complexion
Potent formula & Instant absorption
For all skin types
Free of parabens, phthalates, PEG, MI/MCI
Ingredients Highlights:
Hyaluronic acid (HA) with different molecular sizes

High molecular weight HA forms a barrier on the skin surface to protect skin from drying out. Attracts and retains more than 1000x its weight in water -> super hydrating effect to minimize dryness, fine lines and wrinkles.
Low molecular weight HA can penetrate deeper into the skin to promote collagen production and retain moisture inside the skin
Helps to accelerate wound healing
Cushioning agent for our skin. Our body's ability to make hyaluronic acid reduces with age.
Different molecular weight of hyaluronic acid gives you a long lasting hydrating effect throughout the day

Beta Glucan

A 2005 clinical study demonstrated a significant reduction of wrinkle depth and height, and overall roughness after 8 weeks of use.
Researchers from the University of Alberta shows the deep penetration of beta glucan into the lower level of the skin and the reduction of wrinkles in as little as 10 days. It also promotes wound healing and reduction in scaring following surgical procedures.
Protect and repair while stimulate collagen production
Promotes moisturizing effect with its great good-water binding capacity
Microcitrus Australasica Fruit Extract
Gently exfoliates skin for a brighter, smoother and even skin complexion in a fast action
Green Tea Extract
Protects skin from oxidative damage and reduces inflammation
Inhibit enzyme breaking down collagen
N-Acetyl Glucosamine (NAG)
Study indicates the improvement in hydration, reduction of flakiness and the increase in hyaluronic acid production
Helps to improve skin tone barrier function and hyperpigmentation
Reduces wrinkles and water loss
Alginolyticus Ferment Filtrate
Regenerates the skin for a smoother and even appearance
Vitamin B3 (Niacinamide)
Clinical strength of 5% vitamin B3 significantly improves fine lines, wrinkles, hyperpigmented spots, red blotchiness, skin yellowing and elasticity.
Panthenol
Study demonstrates panthenol in producing significant maintaining skin moisture and reducing transepidermal water loss
Ceramide
Improves skin barrier repair and hydration
Supplies dry and chapped skin with structural elements and helps to build up the lipid barrier of the horny layer of the epidermis.
Directions:
Apply twice daily before moisturizer
Advice:
For external use only
Keep out of reach of children
Store in a cool dry place
Do not use if rash occurs and consult a doctor
---
More from this collection