Ilike Gel Mask - Fibrous Stonecrop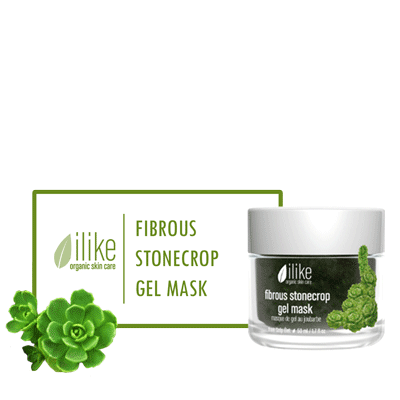 ---
certified organic with no parabens or other synthetics
harvested and processed by hand to ensure delicate plant structure not damaged
cold processed fruits, vegetables and herbs converted into pulps not extracts! to retain the full concentration and power of the herbs
the original made in Hungary for over 50 years
Stonecrop calms, regenerates, strengthens and protects the skin. Because of its lightening effect, ilike's Fibrous Stonecrop Gel Mask is ideal for treating chloasma (mole), flat warts, freckles and age pigmentations while it brightens, replenishes and hydrates your skin. Due to its soothing and regenerating effect, the Fibrous Stonecrop Gel Mask is useful for treating different types of burns (including sunburn) as well.
Skin Types / Skin Conditions:
sunburn
normal/combination skin
oily skin
skin sensitivity
acne, seborrhea
chloasma, age spots or other blemishes
male skin conditions
pigment blotches, photo damage, chloasma, freckled skin
skin with scars
skin immunity problems such as flat warts
after cold sore break-out
Effects:
regenerates skin after burn, sunburn
hydrates
vitalizes
nourishes
soothes
bleaching effect
cures pigment blotches, chloasma, freckled skin, flat warts
antibacterial and antiviral effects
Directions for application:
Apply to cleansed skin over entire face and neck area and leave on for 15-20 minutes for optimal results. Remove with a damp face towel. Finish with serum and moisturizer. Use 1-2 times per week or as otherwise directed. Exfoliation increases the effect of masks.
Ingredients:
Stonecrop, Honey, Bioflavonoids, Vitamin C, Citric Acids, Malic Acid, Malonic Acid, Free Amino Acids, Phenol Carbonic Acids, Pectins, Trace Elements
---
More from this collection