VitaAid Resolaxin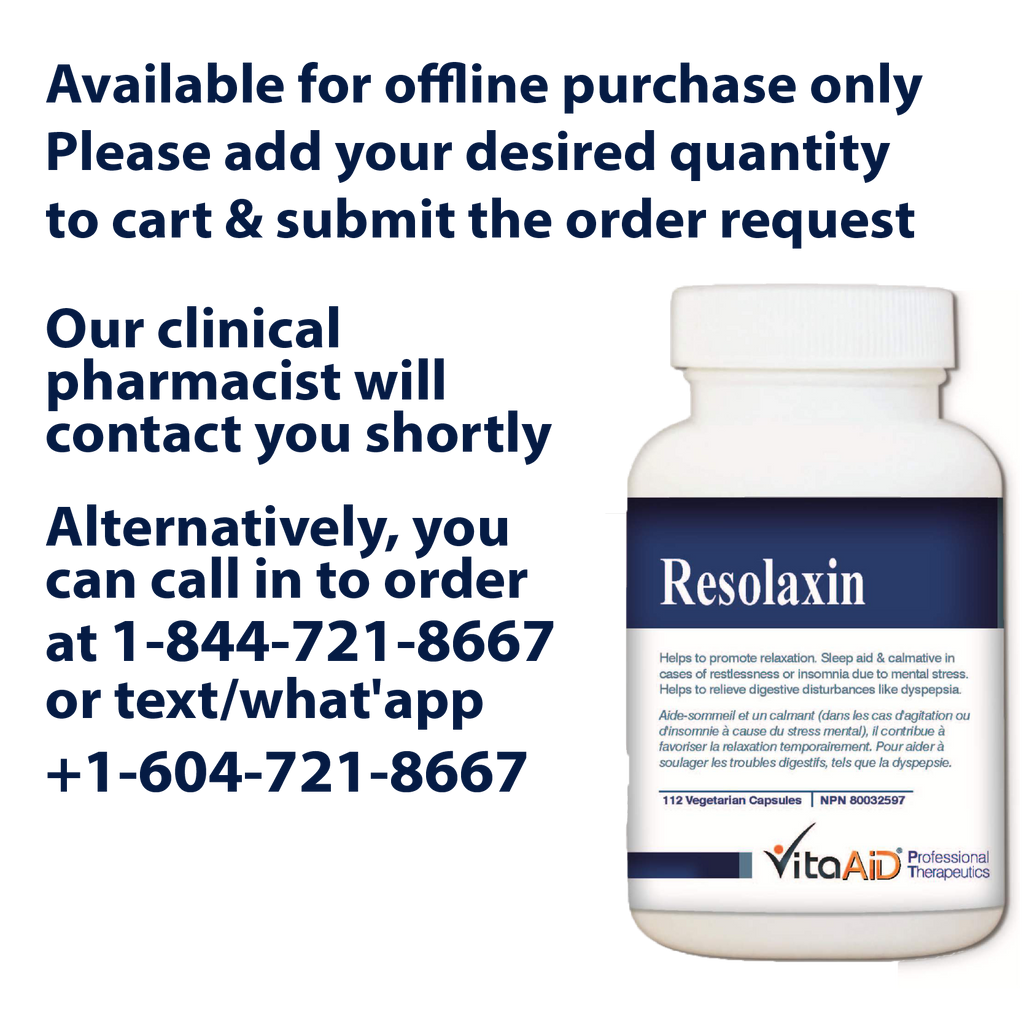 ---
Eases stress and promotes relaxation without sedative effects
Resolaxin is a comprehensive herbal stress management formula targeting individuals that are constantly stressed, nervous, anxious, and/ or restless.
Natural herbal combination that works via binding of the GABA receptors to promote the mind and muscle relaxation.
Wild jujube seed, a traditional Chinese medicine herb used for calming the mind, improving restless sleep and reducing the high blood pressure caused by stress.
Contains L-theanine to induce a sense of inner calm without reducing the alertness.
Suggested Use:
Adults - Take 2 capsules 3 times a day as needed for calming effect. Take 2-3 capsules 1/2 to 1 hour before sleep as needed for relaxation and better sleep. Or else use as directed by a health care practitioner.
Caution:
Consult a health care practitioner if sleeplessness persists continuously for more than 3 weeks, of if other symptoms persist or worsen. Consult a health care practitioner prior to use if you are pregnant or breastfeeding. Consumption with alcohol, other medicaiton or health products with sedative properties is not recommended. Some people may experience drowsiness. Exercise caution if operating heavy machinery, driving a motor vehicle or involved in activities requiring mental alertness. Hypersensitivity is known to occur; in which case, discontinue use.
Supplement facts: (per capsule)
Chamomile Extract 8:1 (Matricaria chamomilla).....120 mg (flower) (1% apigenin) (equivalent to 960 mg dried Chamomile)

Lemon Balm Extract (Melissa officinalis).....53.3 mg (leaf) (5% rosmarinic acid)

Wild Jujube Extract 18:1 (Zizyphus spinosa).....110 mg (seed) (2% triterpene saponins) (equivalent to 1980 mg dried Wild Jujube)

Passion Flower Extract.....45 mg (Passiflora incarnata) (flower)(3.5% vitexin)

L-Theanine (from Camellia sinensis) (leaf).....50 mg

Magnesium (from magnesium citrate).....25 mg

Vitamin B6 (from pyridoxine hydrochloride).....5 mg
Non-medicinal Ingredients:
Silicon dioxide, L-leucine, pullulan/ hypromellose (capsule)
---
*VitaAid is offered available through professional clinician only.
*These statements have not been evaluated by the Food and Drug Administration. This product is not intended to diagnose, treat, cure, or prevent any disease.
---
More from this collection