Voltaren Emulgel® Joint Pain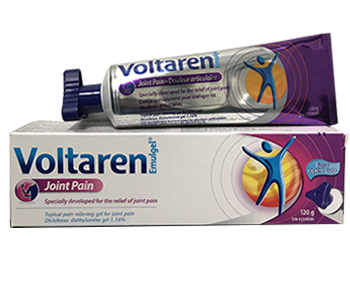 ---
With an easy open cap, it's even easier to get relief from joint pain. It takes only a light grip and a single twist to open. The easy open cap is especially helpful for people suffering from stiff hands, joint pain, and joint inflammation.
Indications
For the relief of aches and pain associated with acute, localized minor joint or muscle injuries such as sprains, strains or sports injuries (e.g. sore ankles, knees, hands or shoulder).
How It Works
Voltaren Emulgel® Joint Pain is specially formulated for rubbing into the skin to relieve acute pain affecting the joints. It contains diclofenac, a nonsteroidal anti-inflammatory drug (NSAID). 
The medicine works by deeply penetrating the joint to relieve pain and decrease the swelling and inflammation.
---
More from this collection