VitaAid Neuromin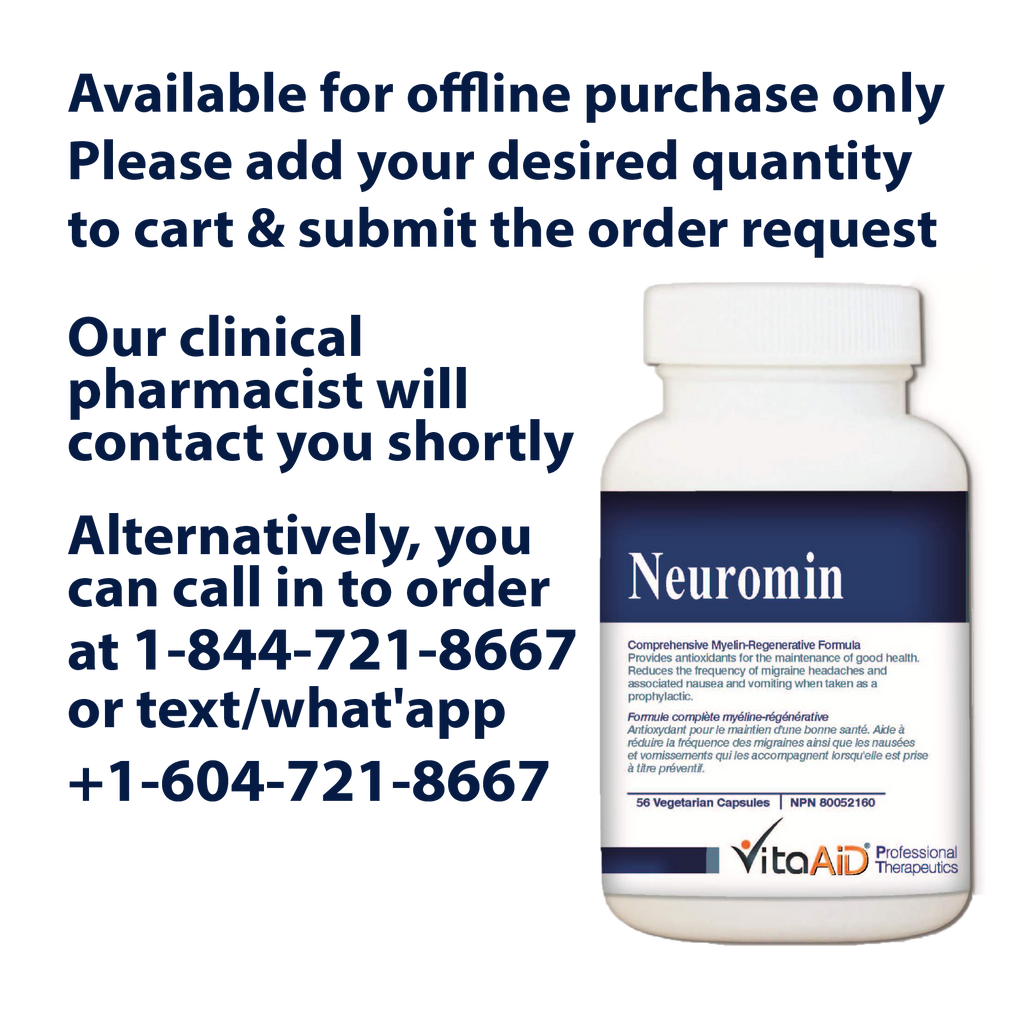 ---
Comprehensive brain nerve protection
Neuromin is a comprehensive formula to support nerve regeneration and repair and prevent cognitive decline. Working via various mechanisms to protect neurons from damage with aging and restore function in various disease processes.
Pyrroloquinoline quinone (PQQ) facilitates nerve regeneration by enhancement of nerve growth factor, and also acts as a neuro-protectant via its antioxidant effects. Its benefits for memory & attention are enhanced by the addition of CoQ10 according to clinical data.
PQQ enhances mitochondrial function and results in significant decrease in inflammatory markers such as CRP and IL-6.
Active forms of vitamin B12 and folate to support methylation process in neurons.
Benfotiamine combined with folate and B12 resulted in significant improvement in nerve conduction velocity and is efficacious in keeping with improvement of diabetic neuropathy.
Active R-alpha lipoic acid provides additional antioxidant effects and protects nerves and mitochondria from damage.
Phosphatidylserine has been shown to enhance memory and cognitive function in elderly patients.
Suggested Use:
Adults - Take 2 capsules, 2 times per day, or as directed by your health care practitioner. Use for a minimum of 3 months to see beneficial effects. For prolonged use over 24 weeks, consult a health care practitioner.
Caution:
Consult a health care practitioner prior to use if you have diabetes; if you are pregnant or breastfeeding; if you are taking blood pressure medicaiton; or if you are taking blood thinners.
Supplement facts: (per capsule ~ 3g)
Pyrroquinoline quinone (BioPQQR).....5 mg

Coenzyme Q10 (ubiquinone) (KanekaQ10R).....37.5 mg

R-alpha-lipoic acid (sodium salt) (stabilized).....75 mg

Benfotiamine.....35 mg

5-MTHF (QuatrefolicR) (5-methyltetrahydrofolate).....100 mcg

Niacinamide.....25 mg

Vitamin B2 (riboflavin-5-phosphate (sodium salt)).....5 mg

Vitamin B6 (pyridoxal-5-phosphate).....5 mg

Vitamin B12 (methylcobalamin).....100 mcg

Mixed Phospholipids (Glycine max) (seed).....50 mg (phosphatidylserine, phosphatidylcholine, phosphatidylinositol, phosphatidylethanolamine)
Non-medicinal Ingredients:
Silicon dioxide, L-Leucine, pullulan/ hypromellose (capsule)
---
*VitaAid is offered available through professional clinician only.
*These statements have not been evaluated by the Food and Drug Administration. This product is not intended to diagnose, treat, cure, or prevent any disease.
---
More from this collection